​It is obvious the targets have not occurred over night. The initiative to set up TRACE21 is coming from those who have been working on intercultural, interdisciplinary and educational projects over decades. By materializing these project the main issues in setting them up has been growing and still is growing at large.In order to show the roots of TRACE21 it does make sense to mention the projects been done over the past 15 – 20 years, as examples of the development leading to the foundation of TRACE21.
Here you will be able to take a look (and in the near future also listen) at these projects, containing the "roots" ofthe intercultural cooperation being materialized since 2001. The non-visible preparations for these projects started in the mid 1990th.
By that time CANTUS MUSIC CENTRE was set up in Jakarta as a music school annex music documentation centre by Otto and Anggi Sidartha associated with PietHein. CANTUS MUSIC CENTRE has been the "umbrella" of most of the projects mentioned here Until 2009. Issues like health and physical limitations stopped the fruitful cooperation between CANTUS MUSIC CENTRE and PietHein.
Since 2010 several combinations of institutions have hosted the projects.
TRACE21 took responsibility since 2014.

TRIBUTE TO TON DE LEEUW (2006)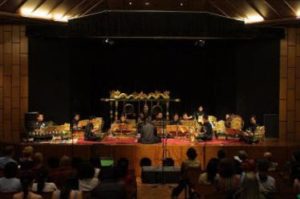 KYAI FATAHILLAH cond. IWAN GUNAWAN
playing Gending (1976) by Ton de Leeuw in Erasmus Huis/Jakarta
PERFORMING AND EDUCATIONAL PROJECTS
SOUNDSCAPE JABOTABEK (2001)
Produced by: Cantus Music Centre, NPS-Radio, Goethe-Jakarta
TRIBUTE TO TON DE LEEUW (2006)
Produced by: Cantus Music Centre, NPS-Radio, Erasmus Huis/Jakarta
SOUNDWAVES (2007)
Produced by: Cantus Music Centre, Goethe/Jakarta, Ford Foundation/Jakarta
NIGHTINGALE PROJECT (2008)
Produced by: Cantus Music Centre, Dutch Chamber Music Company/Eindhoven,
Erasmus Huis/Jakarta
MUSIC AND ELECTRICITY-STRANGE ATTRACTORS (2009)
Produced by: Cantus Music Centre, POW Ensemble, Erasmus Huis
GAMELAN BIG BAND (2010)
Produced by: Cantus Music Centre, UPI/Bandung, Ensemble Gending,
Yogyakarta Gamelan Festival
SOUNDSCAPE BANDUNG (2012)
Produced by: UPI/Bandung, Teater Garasi/Yokjakarta, Karta Pustaka
SOUNDSCAPE SURABAYA (2012)
Produced by: Kilang & Melodia Music School/Surabaya, Teater Garasi/Yogyakarta, Karta Pustaka/Yogyakarta
SOUNDSCAPE MEDAN(2012)
Produced by: Universitas HKB Nommensen/Medan, Teater Garasi/Yokjakarta,
Karta Pustaka/Yogyakarta
CITYSOUNDSCAPE (2012)
Produced by: Teater Garasi/Yokjakarta, Karta Pustaka/Yogyakarta, Cemeti Art House
SOUNDSCAPE SEMARANG (2013)
Produced by: UNNES/Semarang, Widja Mitra/Semarang
NIGHTINGALE PROJECT (2008)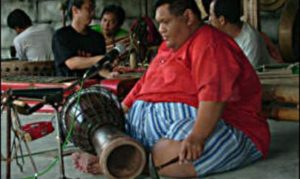 SLAMET GUNDONO (1966 – 2014)
was the puppeteer in THE NIGHTINGALE by THEO LOEVENDUE,
performed by the DUTCH CHAMBER MUSIC COMPANY/Eindhoven-NL